Make your business and marketing documents stand out from the crowd with new fonts. We show you how.
You might not notice good typography but you sure do when it's bad – after all, nobody wants to read a business document or flyer in Comic Sans. While Windows 10 has a wealth of good fonts installed by default, there are plenty of excellent – and free – typefaces out there if you want a fresh look for your document.
Installing fonts used to be incredibly arduous, but it has become easier with each new version of Windows. And Windows 10 has streamlined the font installation process to its simplest form.
How to add a font in Windows 10
1. Head to a font repository, such as DaFont or Google Fonts, and download your font of choice. It should come down as either a TrueType Font (TTF) or OpenType Font (OTF).
2. Open the font ZIP file and double-click on the font file. Some fonts come with multiple files for Italic, Bold, Underline and different heading sizes. Open any.
3. Once open, click the Install button at the top (next to Print) to install your new font.
4. Congratulations, your new font is now installed. Just be restrained in how many new fonts you use in each document – see our tips on how to use fonts are 'best mates'.
How to remove a font in Windows 10
1. Open Cortana, search for "fonts" and click the top result. Alternatively, if you don't have search enabled, head to Settings, search for "control panel" then head to Appearance And Personalisation | Fonts.
2. You should now be able to see every font you have installed on your Windows 10 device.
3. Find the font you want to remove. Right-click it and select Delete. Be careful to not delete standard system fonts, as they can be tricky to get back and some of your apps and software may use them as default typefaces.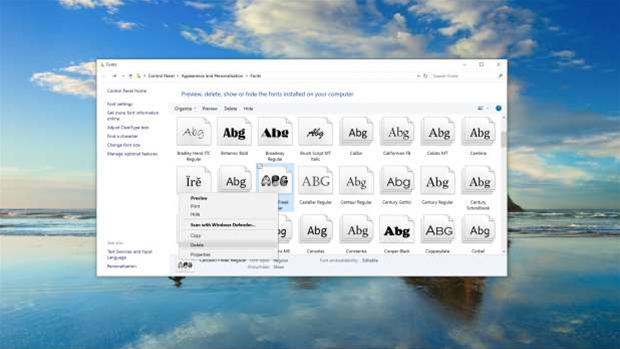 4. Congratulations, you've now just deleted a font.
How to modify fonts in Windows 10
You can customise how Windows 10 presents font sizes to you and which fonts it uses in apps and system software. You can change the text size for individual areas of text in an app quite simply, allowing you to alter titles, menus, message boxes, palette titles, icons and tooltips font sizes. Again, this is something you should do with restraint and care.
1. From the Fonts menu in the control panel, click on "Change font size".
2. Under "Change the text size only", you'll see a dropdown menu. Here you can change the font size for certain attributes within Windows 10.