Facing a mountain of messages? Annoyed by spam? Missing emails? These tips may help save your sanity.
1. Select emails without showing them
A problem with some email clients is that their default settings prevent selecting an email without displaying it.
Why would you want to do that? One reason is that some messages get through spam filters but it's obvious from their subject lines that they're best deleted unread. Examples include those offering "free spins" at online casinos, bogus job vacancies, "failed delivery" notifications supposedly from FedEx and other carriers, and messages purportedly from the FBI, but some are very unsavoury and even their subject lines in the NSFW (not safe for work) category.
How you stop the automatic display of emails depends on which program you're using. For example:
In OS X's Mail, drag the divider between the list of messages and the currently displayed message all the way to the right (if you use the normal layout) or bottom (for the classic layout) of the window. Then you can single-click on any message in the list and then press the delete button in the toolbar, or double-click to view the message.
Outlook's email preview: is worth the risk?
In Outlook, select the View tab, then click the Change View button in the toolbar and select Compact. And to avoid previewing an email when you click on it, select View, Reading Pain, Off.
2. Stop spam but avoid false positives
If too much spam is reaching your inbox, see our previous guide, Five easy ways to cut spam from your email inbox.
On the other hand, your problem may be that genuine messages are going into your junk folder, something that's known as false positives. Fortunately there are some things you can do to help avoid false positives with incoming mail.
In general, the bar for classifying a message as spam is higher when it comes from someone on your contacts list. So if you do spot a false positive, start by adding the sender to your contacts. For example, in Outlook click on the sender's name in the message, then on the button that looks like a bullet list ("View more options for interacting with this person") and select "Add to Outlook contacts".
Similar mechanisms may be available in other email clients. How effective this is may depend on the interaction (or lack of it) between your email client and the email server.
Gmail lets you set up filters with "Never send it to Spam" as the action. So imagine you want to make sure that messages from @example.com addresses remain in your inbox. In Gmail's web interface (even if you normally use the account with a mail client such as Outlook), type "from:(@example.com)" (without the quotes) into the search box. Then click the small arrow at the right of the search box and then click "Create filter with this search". Next check the box labelled "Never send it to Spam" and click "Create filter". Again, similar mechanisms may be available in other email software.
Setting up a safe sender in Outlook.
Office 365 provides administrators with tools to reduce false positives and individual users can set up a 'safelist' of individual senders or entire domains that should not be sent to junk.
3. Check that junk folder
Even after taking steps to reduce false positives, and regardless of the email server and email client you use, it's a good idea to regularly check the contents of your junk folder (or whatever your server and client call it).
Junk filtering – whether performed by the server or client – is pretty good these days, but it isn't 100% reliable. Every now and again bona fide messages will be moved into the junk folder.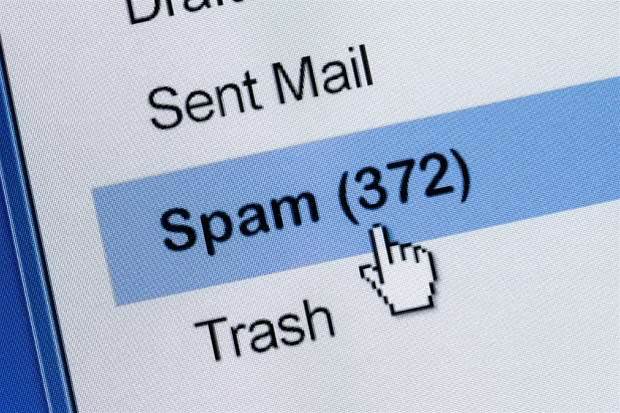 Don't ignore it.
So get in the habit of looking for such messages in your junk folder. When you find them, take steps to reduce the risk of something similar happening again (see 'Avoid false positives' above). But sometimes you'll find yourself scratching your head and wondering what was so spammy about a particular message that it was trapped even though it came from one of your regular contacts.
In those cases it's probably best to accept that "stuff happens" and move on to some real work without wasting too much time or mental energy.
4. Consider Inbox Zero
The Inbox Zero concept is that your inbox should be kept empty. When you see messages in the inbox, you do something with them.
That 'something' is either delete, delegate, respond, defer, or do. This is really an extension of the 'touch it once' method of dealing with paperwork.
'Delete' is obvious. If there's no reason to keep the email (such as "There's still some birthday cake left in the break room") or if you've been inappropriately CCed, delete it there and then.
'Delegate'. Again, pretty obvious. If you're going to give the task to someone else, forward the message and if necessary use whatever method you favour to remind you when it's time to check on progress. Delegate also applies to messages that do need attention but were mistakenly sent to you – perhaps you are a manager in the business but the matter is one for the owner or one of your peers. An example might be an approach from a jobseeker where you don't have hiring authority.
'Respond'. For example, an incoming message might say: "Are you still OK for the 3pm meeting?" Your response could be: "Yes." Job done.
'Defer'. This is the part that particularly worries this writer. If you move deferred emails out of the inbox, there's a risk that "out of sight, out of mind" will apply. So you probably need to schedule time to regularly scan the Deferred folder for things that need attention, or (and we think this is probably the way to go) put the tasks onto your to-do list or whatever similar aide memoire and prioritising tool you prefer.
'Do'. If you can deal with the email quickly, do so there and then.
If you do think Inbox Zero may help you, consider these two points:
The goal is to maximise your productivity, so you shouldn't be looking at your inbox very often and you should turn off email notifications. That's fine, but what if your clients or customers are in the habit of emailing urgent requests? You may be able to train them to phone you instead, but unless there are few other providers it's generally necessary to fit in with their practices rather than expecting them to fit in with yours.
Is there a risk that you will use keeping your inbox empty as a way of procrastination when there's real work to be done?
Disclosure: This writer's inbox contains more than 11,000 messages.
Not the author's inbox.
If you have a favourite tip for managing email, please share it in the comments.