Browsec
Browsec is a VPN service that's available as browser plugin for Chrome, Firefox or Opera for use on computers, or as an iOS or Android mobile app. It features a clear and easy to use interface and you won't need to input any of your details to use it.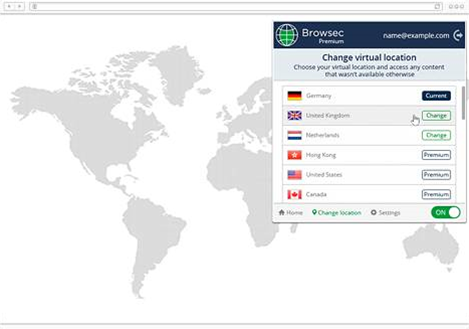 It's relatively quick compared to some free VPN services, and there aren't even any annoying ads to deal with. One downside is that it only offers four locations (which include the US and UK). A US$4.99 per month commercial plan exists if you want more locations and a faster connection.
TunnelBear
TunnelBear's Little plan is its free offering, offering up to 500GB of free browsing data every month. After that, you'll have to upgrade to the Giant Bear plan, which offers unlimited data for US$9.99 per month.
The free plan itself is pretty good if you don't need to use a VPN very often and with 20 servers located around the world, it's likely you'll be able to find one in your specified region. Another impressive feature is that you can connect up to five devices at the same time, including desktop, mobile, tablet and router.
The service also offers GhostBear, a Mac OS X, Android and Window app that claims to make your data even "less detectable" to outsiders.
WindScribe
WindScribe also offers a free plan with a download limit, although here, you can use up to 10GB of data without splashing out – provided you sign up with your email address, or 2GB without registering – making it a better option than TunnelBear Little for those who want to stream content.
It also offers unlimited connections across Windows, Mac, iOS and Android device, although the free plan is limited to eight locations around the world and it's not the fastest of these freebies in our experience.
The commercial plan costs US$9 per month, and offers unlimited bandwidth and 45 locations.
Freelan
Freelan is VPN software, not a service like the others covered here. That means you need to create your own VPN by installing and configuring the software on, say, your home and office computers.
It's open source, and therefore completely free, unlike the others here that work on a freemium model. However, it's much more complicated to use and requires some command line work to get connected.
Freelan installs software on your (Windows, Linux or Mac) computer to re-reroute web traffic, but that all has to be done via the command line rather than a graphical interface.
However, if you're comfortable tweaking with your machine on a much deeper level rather than just using a browser plugin or desktop app, Freelan offers more flexibility and the comfort of using your own VPN rather than a third-party service.