Forget expensive, complex video-editing software. Here's how to use YouTube's powerful editing tools.
Video has become a valuable, if still sometimes neglected marketing tool for businesses. It's long been used for promotional clips and how-to guides on YouTube, of course. And more recently, video has been on the rise on Facebook.
But let's face it, not all of us are born with the technical talents of a video editor or the directorial talents of Steven Spielberg. If you just want to edit together video clips from your smartphone or camera easily, and without getting to grips with a new piece of software, then hope is at hand: YouTube itself.
Here you'll find everything you need to know about editing videos on YouTube, so that you can use them anywhere you like.
Upload your videos
Uploading your films to YouTube is incredibly easy. Go to www.youtube.com/upload and click the up arrow to browse for the video you want to add, or drag and drop your file to the window. Use the drop-down box to select the required privacy option – Public (visible and searchable to all), Unlisted (you'll be able to share the link with others, but people you don't know won't be able to find the videos), Private (visible only to you) or Scheduled (will publish at a time of your choosing).
While the video is uploading, you'll be able to fill in some basic information including a name, description and tags. You can also add the video to a playlist and include a customised thumbnail.
If the video is shaky, YouTube will offer to stabilise it for you. Just click the 'Yes, fix it' button and the adjustment will be made. You can undo this if you're not happy with the results.
How to edit without sharing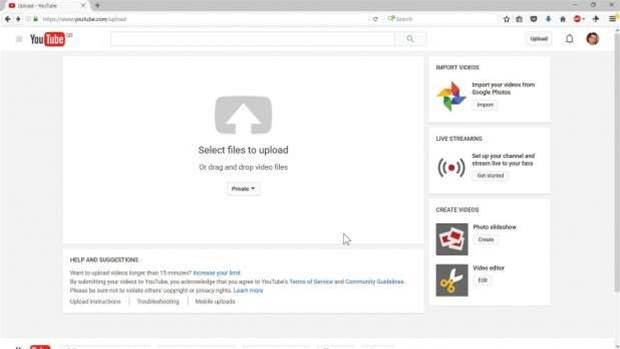 The main purpose of YouTube is to share videos but you can keep your creations private if you prefer. This means you can use its editing tools without sharing your movies with all and sundry, or just use it as a place to back up your films. When uploading clips, set them as Private or Unlisted. Once you've edited your videos online, you can download the finished versions for watching offline or on a TV, tablet or smartphone.
You don't need to use a video downloader because Google lets you save copies of your own videos. In the Video Manager (www.youtube.com/my_videos), select Videos and click the down arrow next to the Edit button for the clip you want to save. Select Download MP4. You will need to use a conversion tool if you want to save the video in a different format.
As we mentioned before, you can post your video to your Facebook page. Of course, you can also publish your videos on YouTube by changing the sharing setting – and then embed them on your own site simply by adding the embed code to the web page.
How to use YouTube's video editor
YouTube has a powerful video editor that can be accessed at www.youtube.com/editor. This lets you trim clips, remix videos, add photos, find and add (legal) audio tracks, and spice up your videos with transitions, titles and effects.
The editor can be controlled using your mouse, but it also supports keyboard shortcuts. The left and right arrow keys let you move between the items, while Enter or Plus adds a chosen item to the editing timeline. Hit the spacebar to preview your video.
There are actually lots of different editing tools to be found throughout YouTube, so it can be difficult to find the particular tools you're looking for.
Add cards and annotations
Cards are used to add interactivity to videos. You can add up to five cards per video and they can be used to show images, titles and polls, as well as links to other YouTube channels, websites and the like. To add a card, go the Video Manager, select your clip and click Edit. In the tab bar at the top, select Cards, then click 'Add card'. Click the Create button next to the type you want to add. You may need to agree to some terms and conditions before you can use it. Enter the URL to direct viewers to, and upload an image or pick one of the suggestions. Edit the card and click 'Create card' to finish.
You can also add annotations in the Video Manager. Select the Annotations tab and click the 'Add annotation' button. You can choose a speech bubble, note, title, spotlight or label. Select the type you want and enter some text. You can then format it, and set the start and end display times. You can also optionally add a URL.
Add subtitles and closed captions
Subtitles and closed captions can be added through the Video Manager. Click the 'Subtitles and CC' tab, then select the language that's primarily spoken in your video. If all your videos use the same language (English, for example), you can set this as the default choice for all new uploads. Click the 'Add new subtitles or CC' button and choose a language from the drop-down list. You can then upload your own subtitle file, use 'Transcribe and auto-sync' (type or paste in all of the words spoken in the video) or create new subtitles or captions by typing them in as the video plays.
Record and edit videos straight from iPhone to YouTube
YouTube Capture (www.youtube.com/capture) is an iPhone app from Google that lets you record and edit videos on your phone. You can stitch together an unlimited number of clips, trimming and rearranging them as required; add an optional soundtrack from your music collection or Capture's audio library; and then upload the result to YouTube and share the link on social networks. It hasn't been updated for a few years but it still works well, and can be used on older devices running iOS 6 and later.
Editing tips
When editing your video, you should avoid too many jumps and cuts, and use transitions and effects sparingly. YouTube's editor offers lots of different transition types but you should stick to the simpler ones, such as wipes and slides. There are many other options, including hearts, circles and stars that open and close, but they just make your movie look cheesy.
Step-by-step: How to edit your videos in YouTube
Open the YouTube editor and thumbnails of all of your uploaded videos will appear on the right. If you have a lot of videos, you can search for the one you want by name. Clicking a thumbnail will start that video playing on the left. Drag any videos you want to include to the storyboard.
Give your project a name. Click a thumbnail and you can use the handles to adjust the start and end point of your clip. Auto-fix automatically adjusts the lighting and colour, or you can use the sliders to make changes manually. You can also slow down your video by increments, rotate and stabilise it.
Click Filters to apply some global effects to the overall colour. Filters can be layered on top of one another. You can also add some text and tweak the audio. If you want to add a soundtrack, drag it to the timeline. Click 'Create video' when you're done.
Step-by-step: How to enhance your videos in YouTube
The Video Manager includes an Enhancements option. To use it, click Videos, then click the down arrow next to the Edit button for the video you want to tweak. Select Enhancements. The original and enhanced videos will begin to play side by side.
The 'Quick fixes' section lets you 'Auto-fix' your video or you can use the sliders below to make changes manually. You can also Stabilise your film and apply a 'Slow motion' or 'Timelapse' effect. Videos can be trimmed and rotated. Filters can be applied on the next tab.
YouTube has recently added a set of Blurring Effects. The editor can automatically find and blur faces in your video or you can blur specific items or areas, such as car number plates. Select the latter option, then draw around the area to blur. YouTube will automatically track (and blur) the object throughout the video.