VoIP Hardware: go SIP?
One point to look at as you begin to procure equipment for your VoIP rollout is what features to look for when purchasing VoIP handsets or SIP phones. Colin explains that the handset itself is less important than the back-end capability.
"All our handsets are SIP compliant. What I would urge people to do is not to make a distinction on the specific protocol that the IP handset uses, but rather on the controller and the features that controller provides. I have a very fancy touch-screen SIP phone on my desk, and I only use its most basic functions."
Advanced VoIP Features
Few businesses seem to take advantage of telephony on steroids, which is what VoIP can become for business.
"You can go to the absolute extremes with IP telephony, like three party, four party, five party conferences and speakerphone" says Colin.
For small businesses, there's very much two threads: They tend to be going for a more basic handset, and giving some control from their PC, click to dial from Outlook and so on."
Colin opines that some simple features like click-to-dial may not sound especially compelling, but users refuse to abandon them once they've become accustomed to the convenience. "I would now far prefer to boot up my computer and use click to dial than enter the number on my phone's keypad." he says. "It (an advanced VoIP feature set) is also about adding notes to calls, recording calls, saving contacts and combining those things."
Features like these are a key selling point of the Microsoft Office Live Communications Server (LCS), and Microsoft Office Communicator, a softphone and VoIP desktop application. You can also use the pre-shipped Windows Messenger program (that is bundled with Windows XP) with LCS.
VoIP beware
The very technology backbone that empowers VoIP may also expose it to threats and quality problems.
VoIP setup risks
Colin recommends companies resist the urge to cut corners
at every stage of their transition, considering VoIP's inherent
call savings.
"Sometimes, organisations try and get the cheapest phone system they can get. Communications is probably one of the few industries that affects every other business. A lack of reliable communications can break your business."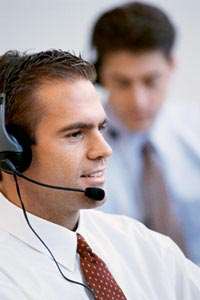 According to a recent story in Secure Computing, "VoIP will inevitably become a huge vulnerability for large enterprises and SMBs alike."
VoIP an endangered species?
A number of business pundits see the VoIP acronym disappearing in 2007, as the default technology behind all voice communications becomes the Internet Protocol (IP). With such ubiquity, it becomes redundant to explain the technology with the ugly VoIP decriptor, so expect to see more "broadband voice" "Internet telephony" and simply "voice" services in the marketplace this year (which are the same as VoIP).
VoIP and telecommuting
VoIP is an enabling technology that makes an employee's physical location less important, helping to facilitate modern lifestyle choices such as 'downshifting', balancing your work-life balance in favour of more time spent wearing shorts.
Colin explains: "Another thing we're seeing in small businesses is lifestyle change. Having an IP extension sitting at your home, allows you to work from home, to appear to be in the office when you are not in the office."
Business Startup Guide continues:
Mobile Office