The real cost
VoIP calls can cost less than fifty percent of the traditional POTS (Plain Old Telephone Service) fees.
While specialised VoIP handsets may seem initially expensive, they offer advanced functions and generally more progressive interfaces such as touch screens with presence information. Especially considering the savings you can make on call costs, an investment in fancy SIP handsets will pay itself off in a short time. There are also a range of wireless handsets that support standard phone calls (DEC), combined with data access to the network for VoIP calls using Wi-Fi.
Of course, if you opt to replace a standard POTS telephone with a softphone (a computer program that carries out the phone functions, similar to Skype's interface) your outlay required to purchase audio headsets with microphones to attach to those computers can be as low as $30 each. Softphones are certainly at the cheaper end of a VoIP solution and are dependent on the host computer running smoothly (an unexpected crash or reboot will terminate any call in progress).
For a POTS replacement, you can install a digital PBX appliance (Private Automatic Branch eXchange) and (Session Initiation Protocol (SIP) handsets. Such an installation can be established by your VoIP service provider, who will offer advice, bundle products and help plan your deployment.
How VoIP works and why it saves you money
VoIP technology breaks down the human voice into compressed packets of digital data, then sends it via a digital network (which could include the Internet) at the receiving end, the packets of voice are uncompressed and played back as an audio stream.
VoIP's key advantage is derived from the low cost of sending data packets via the Internet. Also, the costs of administering the phone system can be integrated into the IT budget, while tasks such as setting up a phone for a new hire or swapping desks can be done more rapidly, in some cases automatically.
SIP and SIP phones
Session Initiation Protocol (SIP) is a standard created by the Internet Engineering Task Force (IETF). SIP equipment is designed to be widely interoperable and allows a number of advanced features. SIP phones are hardware handsets which can use a range of addressing functions, although SIP can be accessed with soft (software) phones as well.
SIP allows a flexible deployment, as each call can be made in a peer-to-peer mode, while advanced deployments make use of back-end augmentation via proxy servers and User Agent Servers which authenticate the users and increase routing performance. Competitors to the SIP protocol include the H.323 standard.
Analogue Telephony Adapters (ATA)
If you aren't using a soft phone for VoIP, you can actually use standard telephone equipment for VoIP calls by adding a device called an ATA. This junction box sits between your traditional handset, a standard land line and your network connection and handles VoIP compression and decompression and some simple traffic handling. ATA devices are most often sold with consumer services and are increasingly being built into SIP phones rather than stand-alone devices.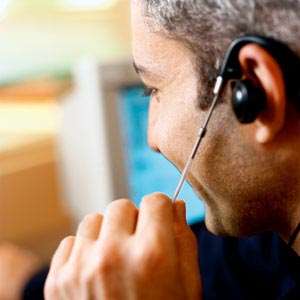 Digital PBX and hybrid PBX/VoIP switches
For larger IP telephony installations, it makes sense to install back-end equipment to facilitate granular administration functions for your user base. Such digital PBX (Private Branch eXchange) devices can be used for controlling dialling groups and setting access levels across a broader corporate user group. For SOHO and SMB business, increasingly it makes sense to purchase new hybrid devices that combine an Ethernet switch and embedded VoIP augmentation. Since VoIP is intrinsically linked to the network and its performance, it makes sense to deploy them close together, with a design that naturally allows them to co-exist efficiently.
Free VoIP services
For SOHO and the smaller end of SMB, VoIP can be a useful tool without major investment in network infrastructure or new handsets. A number of companies use the free Yahoo! Messenger, MSN Messenger or Skype instant messaging applications – these also support basic VoIP calls, using a computer headset and microphone. The only drawback is that the free VoIP calls using these services only work within each network's users (although MSN Messenger and Yahoo Messenger are interoperable).
Types of VoIP plans
An emerging term for modern tele¬communications services is the "Triple Play". Depending on who you speak to, Triple play services bundling can mean Voice, Data and Video, or Voice, Data and VPN mobility. Clearly the telecommunications vendors would like to on-sell more services to each customer, but there are fairly clear benefits for the end-users as well. Buying a unified service results in simpler management of all the elements affecting your VoIP - due to the single point of contact at your service provider. Billing is aggregated onto a single sheet and generally speaking you should be eligible for a significant discount on some or all of the services you are receiving.