Should you put your money down on that expensive new Samsung Galaxy S4, or is something better on the way? Here are 5 phones to watch out for this year.
Here at BIT, we mostly try to focus on the handiest gadgets and tools you can actually buy now - not rumours about gadgets that are months and months away. But even we like to know what's around the corner once in a while, especially if we're shopping for a phone. So are there any especially hot phones you can expect to see later this year? Below is a list of five.
The trouble with buying new tech is that there's always something better just around the corner.
If you simply must have a new phone today then it's pretty hard to go past
Samsung's Galaxy S4
, but we'll see a few other great new phones hit the shelves before the end of the year.
It's tough to look ahead when handset makers play their cards so close to their chests, and we've had to gaze into the crystal ball, but here are five serious contenders which hopefully aren't too far away.
1. iPhone 5S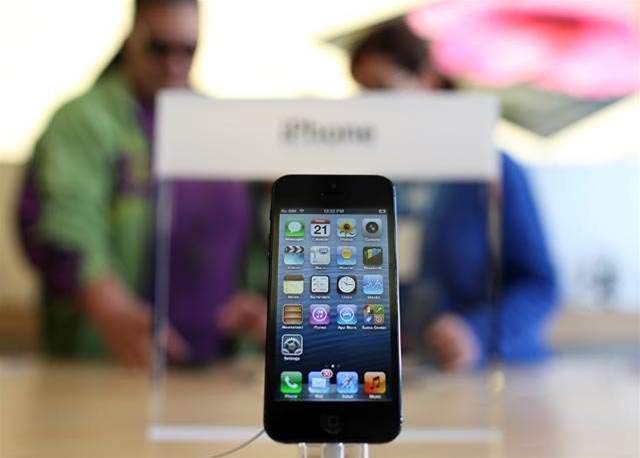 Apple rumours are a dime a dozen, but it's a pretty safe bet that we'll see a new iPhone this year. Going on Apple's track record, it's likely to be based on the iPhone 5 design - and dubbed the iPhone 5S - rather than be a complete redesign.
The big question with the next iPhone is whether Apple adds a Near-Field Communications (NFC) chip for short-range wireless interactions.
Shoppers might be able to use it as a wireless credit card and it would likely tie in with the
Apple's Passbook
features, giving businesses the opportunity to expand their gift voucher and customer loyalty programs.
Business users could perhaps also use an NFC-enabled iPhone as a swipe card to offer secure building access, two-factor authentication and other access and proximity features.
The next iPhone will certainly run iOS7 and is likely to boast a faster processor and sharper camera.
Right now the rumours suggest a September/October launch.
The real attention is focused on whether Apple decides to complement it with a budget plastic iPhone to hold off the threat from budget Android rivals. Apple might also opt for a larger 5-inch model to compete against some of the very large phone/tablets on the market from the likes of Samsung.
2. Samsung Galaxy S4 Active
We won't see a Galaxy S5 this year, but the ruggedised Galaxy S4 Active might be worth keeping an eye out for if you work outdoors and want a phone that can handle the rain.
The important thing here is that the S4 active doesn't need a
case to protect it against the elements
. It's designed to a special standard (called the "IP67" standard for those interested in such things) which means it is completely sealed against dust and can also survive being submerged in one metre of water for up to 30 minutes.
Whether you work on a building site, travel from door-to-door or simply struggle through a peak-hour commute, this could be the handset you've been waiting for - a tough phone which doesn't sacrifice grunt.
It is slightly taller, wider and heavier than the standard S4, plus it uses a TFT touchscreen with Gorilla Glass rather than Super AMOLED. One benefit of the change in screen is that you'll be able to use the touchscreen while wearing gloves, without needing to worry about damaging it with liquid or dust.
Samsung has confirmed the water and dust-resistant Galaxy S4 Active is coming to Australia "this year".
3. Samsung Galaxy Note 3
The Galaxy Note is a bit bizarre - it's like a small tablet - but they are popular. I think the large screen could be handy if you like to take a lot of notes in meetings. It might also make the perfect compromise if you don't want to carry around a phone and tablet (and pay two phone bills).
Technically this cross between a tablet and a phone is still a rumour, but the smart money says the Galaxy Note 3 will be officially announced in September (there's a trade show then).
Continuing to push the envelope, the Galaxy Note 3 is expected to sport a 5.9-inch display. There was talk of it leapfrogging the 6.1-inch Huawei Ascend Mate and offering a 6.3-inch display, although this rumour more likely referred to the Samsung Galaxy Mega which was announced in April.
The extra screen real estate compared to the 5.5-inch
Galaxy Note 2
will come in handy for people who like to take notes in meetings using the S-Pen stylus and built-in handwriting recognition. The S-Pen is expected to gain new features such as stylus-enabled Air Gestures for interacting with the phone by waving the stylus across the screen.
The Note 3 is also rumoured to include an NFC chip. It will be interesting to see when Samsung comes good on its promise to turn its NFC-enabled devices into Visa PayWave credit cards.
There are other giant phone/tablets like this, but we think this one is the one to watch out for because of extra features like the stylus and Samsung's strong ecosystem. The large screen seems odd at first but the size does grow on you quickly.
4. Samsung Galaxy S4 Mini
Why this phone? Because if you don't want a huge 5-inch phone you can still choose this smaller cousin and it looks like you won't have to compromise on features, unlike a budget Android piece of junk.
Samsung has confirmed that this more compact version of the popular Samsung Galaxy S4 is coming later this year for those of us with smaller pockets and smaller budgets.
The Samsung Galaxy S4 Mini will replace the 4-inch S3 Mini. It will have a 4.3-inch display, which is still larger than Apple's 4-inch iPhone 5. The S4 Mini sacrifices a little grunt but few features compared to its big brother.
It remains to be seen whether the S4 Mini's smaller screen and smaller battery translate into longer battery life.
Pricing will be one of the most important features. Rumours put it at around AU$650, which would not quite be the bargain that we'd be hoping – particularly when compared to the budget Nexus 4 and its rumoured successors.
Also keep an eye out for a "mini" Android phone from HTC, which is expected to bring out a 4.3-inch HTC M4, dubbed the HTC One mini.
There are various smaller phones to choose from, but once again we think this is the one to watch out for because of the strong Samsung ecosystem. It's a great example of how Samsung is offering a choice of sizes, but without compromising on other features.
5. Nexus 5 or Motorola Moto X
Why the Nexus 5? LG's Nexus 4 broke new ground in terms of price and performance for an Android phone, which is why its successor will be one to watch out for.
It's still unclear exactly what will follow the
Nexus 4
- this is the only phone on this list where all we can do is make guesses as to what's coming. Still, it's worth watching out for. The Nexus phones are also first in line to get the latest Android updates, which is handy if you like having the latest interface.
LG has unofficially denied that it's working on a Nexus 5, so it's possible that Motorola, now owned by Google, could finally get a chance to build the next Nexus.
Motorola already has an upcoming phone, called the Moto X, which will be released in the next few months. The Moto X will feature two processors, with a low-power mode to offer extended battery life from the expected 4,000 mAh battery.
Even if the Moto X isn't part of the Nexus program, Motorola has previously declared its intentions to only make minimal customisations to Android – allowing it to deploy software updates quickly.