Need a portable printer – or to print on wide-format paper or another material altogether? Here are some of your options.
Whether you print half a dozen black-and-white pages a week or hundreds of colour pages a day, if they're standard office documents, you'll find plenty of inkjet and laser printers that can handle the workload.
You'll need to consider factors such as speed, duty cycle, total cost of ownership, print quality and features like support for mobile devices and cloud services.
But what if your printing needs are out of the ordinary? What if you need to print while on the road, or print on large-format paper, or on a material other than paper, such as a label, ID card or even a T-shirt?
Your choices narrow somewhat, but you still should be able to find something that suits your needs. Here's a range of special-purpose printers.
Portable A4 printers
A growing number of people, especially those in small business, are what were once called road warriors – their place of work isn't fixed, it's wherever they happen to be at the time.
While most customers have email addresses and are used to receiving invoices and other business documents that way, sometimes there's an advantage in being able to put a piece of paper into their hands right there and then.
Most of the big names in printers offer portable A4 printers. Factors to consider include the print technology (thermal mechanisms require special paper), interfaces (Wi-Fi, USB), battery life, ruggedness, size and weight, and the usual considerations of colour versus monochrome, speed, running costs and print quality.
The HP Officejet 200
Examples include the Brother PocketJet, Canon iP110, Epson WF-100 and HP Officejet 200.
Portable small-format printers
Sometimes you only need to print physically small documents such as receipts while you're on the move. Manufacturers have got that situation covered too.
The Zebra ZQ110
Examples include the Brother RJ-2050 and RJ-2150 label and receipt printers (with Bluetooth, USB and Wi-Fi connectivity, including AirPrint support) and the Zebra range including the ZQ110, which is said to be the "smallest mobile receipt printer".
Label printers
While it's possible to print labels on inkjet and laser printers (providing you buy the right type of labels), producing small quantities of labels from sheets is inconvenient or wasteful, and frequent use can cause problems if adhesive from the labels transfers to the printing mechanism. Furthermore, the typically curved paper path can result in labels separating from the backing sheet, resulting in jams.
Consequently, a special-purpose label printer can be a useful addition to an office or other workplace. It can be used for diverse tasks such as labelling containers, printing address labels, and producing wrap-around tags to identify cables.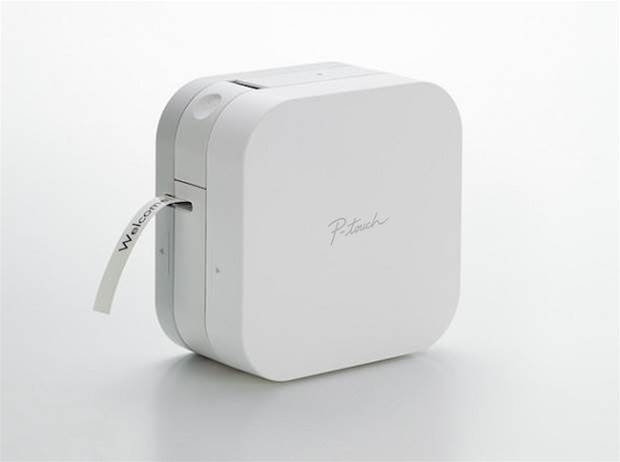 The Brother PT-P-300BT
Examples include the Brother PT-P-300BT (which we reviewed earlier this year) and QL-810W (unlike most models in its category, this one can print in two colours), Epson LabelWorks LW-600P (which takes advantage of the voice recognition system on certain smartphones), and Zebra ZD500 (with optional 300dpi resolution).
White toner printers
A major drawback of most printers is that white is represented by the absence of ink or toner. So if you need to print on coloured stock (such as black card for chalkboard-style point of sale materials), you're out of luck.
Intec CS5000 white toner printer
But a small number of printers do allow the use of a white toner. The best known vendor in this segment is Oki, but it is also offered on certain Intec models.
ID card printers
Small businesses sometimes need to produce their own ID or membership cards – gyms are an obvious example, or you might want to restrict loyalty discounts or offers to the customers that earned them, not their friends or family.
The Evolis Badgy 200 card printer
Several models of card printers are available, including those from Entrust Datacard, Evolis, HID Fargo and Zebra.
Garment printers
Printing directly onto t-shirts and other items is pretty specialised, but it is possible.
The Brother GT-341
Examples include the Brother GT-341 and the Epson SureColor F2000 (which is available in a five-ink version allowing designs to include white when printed on coloured fabric).
Dot matrix
Once the primary technology for home and small business printing, dot matrix printers were pushed into a niche as laser and inkjet models became more affordable. But they still have a place, primarily where you need to print multi-part forms from legacy software that can't be economically updated to work with modern printers.
The Epson LQ-2190 dot matrix printer
Vendors still serving this market include Epson (up to eight-part forms) and Oki (up to 10-part forms).
Light and heavy media
Printers are designed to handle a certain range of paper thicknesses, and most manufacturers recommend against the use of very thin or very thick stock. For example, the Epson WorkForce ET-4550 in our office specifies 64 to 95gsm (typical office paper is 80gsm).
But if you look around, you can find exceptions. One is the Oki C911dn which handles 52 to 360gsm. It can also print on sheets as small as A6 and on banner material up to 1.3m long. Gloss paper, film, transfer paper, waterproof paper and other types of material are supported.
The Oki C911dn
Production-grade printers, such as Ricoh's cutsheet and continuous-feed models also support a wide range of paper stocks, as you'd expect.
Wide-format printing
We're treating this as a catch-all category for wide-format printing for proofing, packaging and outdoor marketing, because we suspect that most of these printers go into businesses that provide print services for clients rather than for purely in-house use.
Here are some options that illustrate the diversity in this market.
The Epson SureColor P7070 is sold largely on its ability to deliver 98 or 99 percent of the Pantone range, depending on whether 'light light black' or 'violet' is selected as the tenth ink. The main applications are fine art printing and colour-accurate proofing.
The HP Scitex family comprises industrial-scale presses for printing signs, displays and packaging.
The Ricoh Pro L4160
Oki's ColorPainter range is designed for producing items such as banners that may be subject to harsh environmental conditions. Prints on suitable media are said to be good for at least three years out of doors without the need for lamination.
Ricoh offers a number of options, ranging from the MP CW2201SP wide-format multifunction device to the Pro L4160 printer for outdoor signage.