It's now possible to print from anywhere – from just about any device or via a cloud service. We look at your options.
While there are still some bare-bones models on the market, most printers and all-in-ones – even affordable models – now support mobile printing in some way. The ability to print from or scan to cloud services is also becoming more common.
The trouble is Apple, Google and most printer manufacturers offer their own proprietary solutions for printing from mobile devices and cloud service.
How do you decide which is best for you or your business? We look at some of those technologies, along with some examples from various manufacturers.
AirPrint
Apple's AirPrint system is mostly used from iOS devices, but is also supported by macOS. It saves the operating system having to know the details of the printer, and exposes a subset of features (such as colour or mono, single or double sided) to keep things simple for the user.
The Ricoh MP C307
Manufacturers offering printers with AirPrint support include Brother (such as the MFC-L9570CDW), Canon (Maxify MB5460), Epson (WorkForce Pro WF-5190), Fuji Xerox (DocuPrint CM225 fw), HP (LaserJet Pro MFP M426fdw, Oki (MC563dn), Ricoh (MP C307SPF) and Samsung (SL-M5370LX).
An important limitation is that the device and the printer must be on the same local network.
Printing apps
Several manufacturers offer iOS and Android apps for printing and, for multifunction printers, scanning. Unlike AirPrint they know about the characteristics of particular printers, and so may be used to print high-quality photos, check ink/toner levels, change settings and so on, depending on the model.
The downside is that they tend to be limited to printing certain types of file, commonly PDF, JPEG, and Microsoft Office.
Brother's iPrint&Scan app
Examples include Brother iPrint&Scan (Android , iOS), Canon Print Business (Android, iOS), Epson iPrint (Android , iOS), HP Smart App (Android, iOS ) and Ricoh Smart Device Print&Scan (Android, iOS).
Printing from phones and tablets can be simplified when they and the printer both support NFC; examples include the Brother MFC-L9570CDW, the Fuji Xerox DocuPrint CM315 z and Ricoh MP C307SPF.
Google Cloud Print
Google Cloud Print handles printing from Chromebooks, the Chrome browser, and Google applications such as Gmail. Like some manufacturer-specific mobile printing systems, it works by registering a printer with the service, and then when you print in a supported situation the document is sent to the service, which relays it to the printer. This means the device and the printer can be pretty much anywhere in the world, as long as they are both connected to the internet.
Google Cloud Print is built into recent versions of Android, and its usefulness there can be extended by installing the print service plugin provided by the printer's manufacturer, such as the Brother Print Service Plugin, Canon Print Service, Epson Print Enabler and HP Print Service Plugin.
The installation and activation of the appropriate print service allows apps that support the print function to reach printers on the same local network as the device and sometimes (depending on the manufacturer) via Wi-Fi Direct or a USB On-the-Go (OTG) cable.
Some printing apps (see above) incorporate Google Cloud Print functionality.
iOS users can print via Google Cloud Print thanks to applications including CloudPrint, PrintCentral Pro, and Quick Print via Google Cloud Print.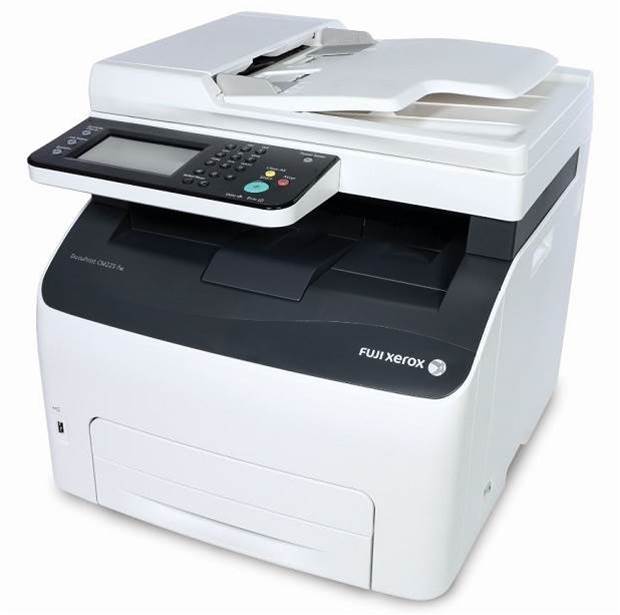 The Fuji Xerox DocuPrint CM225 fw
Manufacturers offering printers with Google Cloud Print support include Brother (such as MFC-L9570CDW), Canon (Maxify MB5460), Epson (WorkForce Pro WF-5190), Fuji Xerox (DocuPrint CM225 fw), HP (LaserJet Pro MFP M426fdw), Oki (MC563dn), Ricoh (MP 601SPF) and Samsung (SL-M5370LX).
Cloud printing
Apart from Google Cloud Print support, some printers are able to print certain documents directly from the cloud. In the case of all-in-ones, that extends to scanning to the cloud.
For example, the Canon Maxify MB5460 can print from Dropbox, Evernote, Facebook, Flickr, Picasa, Photobucket and Twitter, and scans receipts to the Concur expense management system.
The Canon Maxify MB5460
Certain Fuji Xerox models (such as DocuPrint CM315 z) work with the company's Cloud Service Hub (at additional cost after a trial period), providing the ability to print to and scan from Dropbox, Google Drive and OneDrive, with the bonus of single-sign-on and a federated search capability across multiple services.
Mobile printing
For a more comprehensive mobile solution for busy offices with a wide range of devices, Ricoh's Managed Mobile Print is Windows Server-based software that supports Windows, Mac, Chromebook, Android and iOS devices via AirPrint, Google Cloud Print and Email Print. Each device is given a unique PIN for tracking and securing print jobs.
Mobile workers sometimes need to be able to print on the spot. We'll cover mobile printers – along with other special-purpose printers – in another feature coming soon.