The best and worst performers
One brand stood out in both categories: Kaspersky Internet Security and Kaspersky Virus Removal Tool both completely removed all traces of the 19 infections used as the test set.
They were followed by Bitdefender Internet Security, Avast Free Antivirus, G Data Internet Security, Avira Antivirus Pro and Symantec's Norton Security, which repaired the system and removed the malware, leaving between four and nine harmless file remnants.
Among the free tools, Bitdefender Rescue Disk, Heise Disinfect and G Data BootMedium detected all 19 threats and deleted the dangerous components, leaving some harmless file remnants.
Microsoft Windows Defender (offline) and Avast Rescue Disk detected all of the malware, but were each unable to remove the active components of two examples.
Microsoft Safety Scanner did not detect two of the 19 pieces of malware in the test set. And it failed to remove the active components of one that it did spot.
AV-Test was particularly concerned about the performance of DE Cleaner Antibot. It failed to detect five of the 19 infections, making it the worst of the 17 products, even though it is backed by several German ISPs and the German Federal Ministry of the Interior, and - perhaps as a consequence - is widely distributed in Europe.
Conclusions
While it is impressive that Kaspersky's products managed such thorough clean-ups, failing to remove every last trace isn't really a shortcoming as long as the active components are deleted. So users have a choice of software that will get them out of a hole when malware strikes.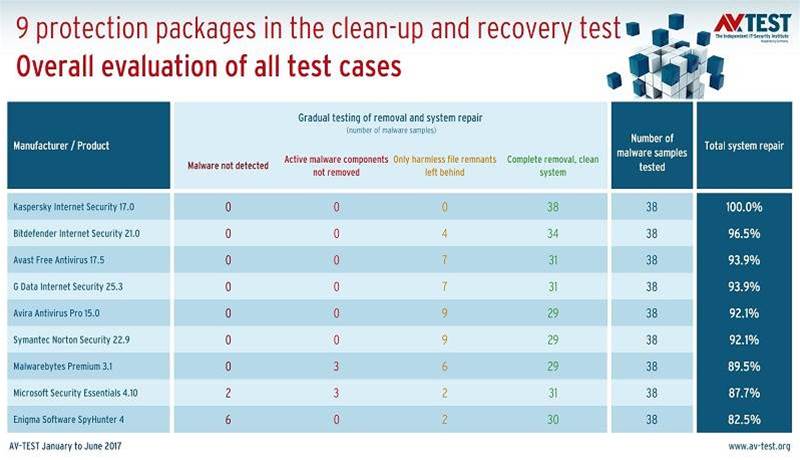 But we would add one caution: you can't expect these products to recover a system that's run foul of ransomware. While there have been a small number of examples where researchers have been able to determine the required decryption keys, the only real fallback is a thorough backup strategy.