Self-improvement apps
LinkedIn (free)
A key tool for managing your professional network, LinkedIn is still the best way to keep up to date with industry news and look out for new job opportunities.
Not a great deal has changed with LinkedIn over the years. At the core of the app is your CV, and stemming from it are professional connections. Many people tend to use the app as a digital business card, but it's also one of the best ways to search for work and scope out potential clients if you're a freelancer.
Available for iOS, Android and Windows 10.
Duolingo (free)
One of the best free language learning tools out there, Duolingo is a must-have if you're looking to take your first steps in a new tongue. Perfect for swatting up on the essentials before a holiday, or testing the waters before embarking on a larger course, the app comes with fun, easy-to-use lessons for Spanish, French, Portuguese, Italian, German, Dutch, Danish and Gaelic.
Whether you're learning the very basics or a few set phrases, the app has a variety of courses for each language. You'll lose hearts for answering incorrectly, which turns the whole process into a rather addictive game, and adds an important element of fun into the learning process.
Available for iOS, Android and Windows 10.
Khan Academy (free)
If you haven't heard of Khan Academy, it's a global not-for-profit organisation that aims to educate the world for free. The app gives you access to its library of more than 3,200 teaching videos, covering all the branches of maths, the sciences (including its foray into computing), history and even finance and economics.
It also has a section for talks, similar to the TED app. The quality of the teaching varies by topic and teacher, but it's a free resource that's designed specifically to engage and explain rather than simply talk at students.
Available for iOS, Android and Windows 10.
Forest ($2.99 for iOS, free for Android)
The idea at the heart of Forest is that you plant a seed and watch it grow into a tree. You do this to avoid distractions. The catch? If you can't stand to be without Facebook or Twitter and decide to fiddle around with your handset, your lovely tree will wither and die.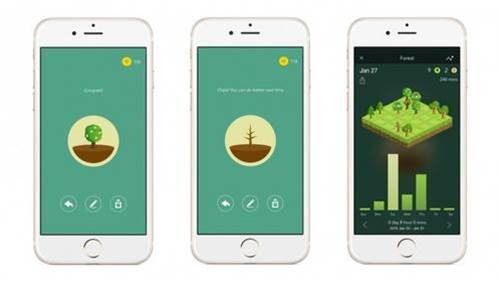 It's a clever, intuitive, and aesthetically pleasing way to make distancing yourself from distractions feel worthwhile. Keep focused on your tasks and you'll eventually end up with a satisfying forest of productivity as well as a bunch of nicely formatted statistics to pore over and share.
Available for iOS and Android.
Streaks ($5.99 for iOS, free for Android)
From a distance, Streaks sounds like either a useful way to track your daily habits, or a terrifying glimpse to a dystopian future where we all need apps to remind us to brush our teeth. Luckily it's the former, offering a handy and flexible system where you set reminders for up to six tasks each day.
The aim is to complete your goals for "streaks" of several days. It's a simple concept, but is great way to encourage good habits with only a few gentle nudges.