Communications & collaboration apps
Todoist: To-Do List (free)
There are more than enough list-managing apps out there to qualify for some sort of meta list-management list, but Todoist rises to the top of the pile with its gorgeously streamlined design.
A great way to keep on top of deadlines, the core of the app is built around to-do project lists, which you can manage and tick off when completed. Group collaborating, integration with apps including Google Drive, and automatic syncing across devices all help to make Todoist a useful, clunk-free tool for keeping track of work.
Available for iOS, Android and Windows 10.
Slack (free)
A useful and potentially transformative business app to have in your arsenal, Slack is a snazzy-looking conversation platform aimed at the workplace.
The app supports both private and group conversations. It integrates with a number of tools including Dropbox and Google Docs, and lets you add images, videos and GIFs to your chats. It automatically syncs across all of your Slack accounts, making off-the-cuff collaboration possible even when you're on the bus.
Available for iOS, Android and Windows 10.
Trello (Free)
Organisational app Trello offers tons of features, such as collaboration with other users and integration with online tools, as well as several viewing modes and tags to make organising multiple pieces of work manageable.
It's cross-platform, too, so your colleagues will be able to access it anywhere, regardless of the device they're using.
Available for iOS, Android and Windows 10.
Microsoft Outlook (free)
Microsoft Outlook is quite possibly the best mobile email app available. Working with Microsoft Exchange, Office 365, Outlook.com, Gmail, Yahoo Mail and Apple iCloud, Outlook is a power user's dream.
It automatically organises itself to surface the more important emails to the top, filtering the rest into an "Other" inbox for you to peruse at your leisure. You can swipe to delete, archive or schedule emails to appear when you have time to deal with them properly, and it contains your entire Outlook calendar, so there's no need to switch app just to check an appointment.
Available for Android and iOS.
Skype (free)
FaceTime may be the pillar of video chat on Apple devices, but Skype remains an indispensable tool for talking to friends, family and colleagues on Android and Windows devices.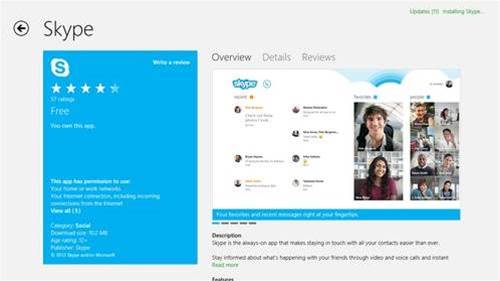 This cross-platform app offers free messaging and video calls, and cheap calls to mobiles and landlines. It also includes video group calling, meaning you can chat to up to 25 friends or family members at once, each with their own onscreen video box (presumably quite small) – in high-def, if your phone or tablet supports it.
Available for iOS, Android and Windows 10.
Google Docs (free)
Cloud-based document editing is increasingly the norm in offices, and Google Docs is one of the most-used apps out there. It's therefore pretty handy to have this app installed on your phone.
There's all the functionality here that you'd expect from Google Docs on a laptop. You can edit a document on the go, collaborate with other writers and can rest easy about losing progress, as changes are all automatically saved.
Available for iOS and Android (with third-party GDocs app available for Windows 10).
Dropbox (free)
Cloud-based services are everywhere these days, but one of the originals, Dropbox, is still one the first apps installed on many mobile devices.
You  get 2GB of free storage that allows you to share photos, documents and videos between a wide range of devices, and can send links for larger files – all of which is useful and a great way to back up, work from anywhere and collaborate.
Available for iOS, Android and Windows 10.