Stop tearing your hair out and follow our tips for upgrading, configuring, securing and using Windows 10.
Windows 10 has been hailed by many as a vast improvement over the previous generation, marrying the best features of 'classic' Windows with the best bits of Windows 8.
However, no software is exempt from glitches, bugs and other assorted compatibility issues – least of all Windows 10. While it's not as bug-riddled as previous Windows versions, there are nonetheless a series of common problems that have been persistently identified by users.
Here's a list of some of Windows 10's recurring issues as well as tips on how to fix them, starting with problems with upgrading to and updating Windows 10, then issues related to start-up and configuration, security and using the operating system.
I can't upgrade from Windows 7 or Windows 8
If you're trying to upgrade to Windows 10 but your PC is stubbornly clinging to Windows 7 or Windows 8, here are a few things you can try:
Open Control Panel, run Windows Update and ensure that the PC is fully up to date. If updates fail, download and run the Windows Update Troubleshooter.
Use the Media Creation Tool. Click Download tool now, save the tool and run it on the PC you want to upgrade. If this didn't work for you back when Windows 10 launched, try it again now – the tool has been improved.
Make sure that hardware Disable Execution Prevention (DEP) is switched on in the BIOS, referring to your motherboard manual for help if you need it. If you still have problems, use the Start Menu to search for 'performance', run Adjust the appearance and performance of Windows, click the Data Execution Prevention tab and turn DEP on for all programs and services, then reboot and try again.
I can't upgrade to the latest Windows 10 version
Windows 10 has received a number of major updates, but some computers fail to install them automatically. From the Start Menu, type 'winver' and hit Enter. If you don't have the latest build number listed by Microsoft (such as 15063.483), you may want to update to the latest version.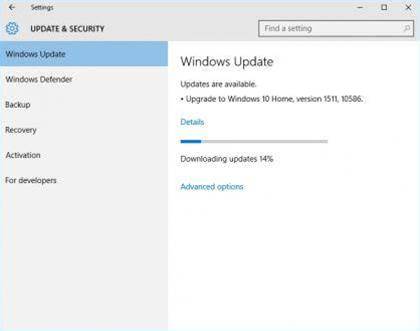 You can try troubleshooting Windows Update (see below), but in our experience, it's best to use the Media Creation Tool. Download it and use it to upgrade the PC. Note that you'll see a 'Ready to install' screen that, worryingly, doesn't mention anything about an update: this is correct, just check that the installer is about to install the correct Windows 10 version (Home or Pro) and that it's set to keep personal file and apps, then click Install – your data, apps and (almost) all of your settings will remain untouched.
I have a lot less free storage than before
You might not know, but after installing Windows 10 the old version of the OS is hanging around in the background taking up useful space. Surprised? When you upgraded, your old version of Windows doesn't disappear. It's still in the back of the system and goes by the name 'windows.old' and takes up valuable disk space.
You may be asking as to why this happened and the answer is that Microsoft isn't quite as controlling as some other big tech companies. Instead of forcing users to update their hardware and never look back, Microsoft keeps a hold of the important files that made up your previous OS in the C:/ drive. This is in case you don't like the new Windows 10 and decide to change back to the previous operating system that you might be more used to.
If you like the new OS and want to delete the old one for good, then click on the Windows Start button and type "cleanup" to automatically search the system. A Disk Cleanup app should appear before you in the search criteria field. Click on it to open the application.
A drive selection box should appear. Simply select the drive your OS is installed on. The default drive should appear first which is usually the C:/ drive. If you're confident that this is the main drive where your OS is installed, hit OK. Windows should scan your system for a while and then a box will pop up.
Now, two things could happen at this point. You could be presented with a list of files to delete right away, one of which is "Previous Windows Installation(s)", or if that option is not visible, you will need to select the "Clean up system files" option on the bottom left.
Windows will do some more calculations and give you another a very similar looking box, this time with the option to delete "previous windows installation(s)". You might have to scroll down to find it, but it should be taking up a sizeable bit of drive space, in our case, almost 5GB. Tick this option and click OK. In the separate message box that appears asking if you're certain you want to send this, click Delete Files, and you're done.
Why is system Restore is disabled?
For some reason, System Restore isn't always enabled by default in Windows 10; we wouldn't hesitate to turn it on.
Search for "Create a restore point" in the Start Menu and select it in the results, then highlight the system drive, click the Configure button and select Turn on system protection. Use the slider to set an appropriate amount of maximum disk space – about 5GB ought to be enough.
Note that, annoyingly, some Windows 10 updates turns this off again – you'll need to turn it back on.
Why is Windows Update not working?
Many people have reported issues with Windows Update in Windows 10. Check first that you've upgraded to the Windows 10 Fall update (see above). If you're still getting problems, download and run the Windows Update Troubleshooter, then reboot and try to update again.
If the problems remain, you might need to get a bit more stuck in. First, check that System Restore is configured (see above) and create a restore point. With this done, use Win+x and select Command Prompt (Admin), then type "net stop wuauserv" (without the quotes) and hit Enter, followed by "net stop bits" and Enter.
You should see confirmations that each service was either stopped or wasn't running. Next, open Explorer, navigate to C:\Windows\SoftwareDistribution, and delete its contents including any sub-folders. Now reboot, open Windows Update and click Check for updates.
How do I turn off forced updates?
If you're like many users, you set up previous Windows releases so that they wouldn't install updates automatically – one forced reboot is one too many. To be fair to Microsoft, Windows 10 handles post-update reboots much more elegantly, but we'd still rather be in control from the outset.
There is a workaround for users running Windows 10 Pro: from the Start Menu, search for "gpedit" and run the Group Policy Editor. Expand Computer Configuration in the left-hand pane, and navigate to Administrative Templates\Windows Components\Windows Update.
Double-click Configure Automatic Updates in the list, select the Enabled radio button, and in the left-hand box select "2 - Notify for download and notify for install". Now click OK, and you'll be notified whenever there are updates – unfortunately, they'll be a daily irritation if you're using Windows Defender.
The Group Policy Editor isn't available on Windows 10 Home, but we'd recommend you at least open Windows Update, click Advanced options and select "Notify to schedule restart" from the "Choose how updates are installed" list. While you're here, all Windows 10 users might want to click Choose how updates are delivered, and ensure that Updates from more than one place is either off, or set to PCs on my local network.
How do I stop Windows 10 installing updates when I shut down?
Sometimes you go to shut down your PC, you may see a yellow exclamation mark icon on the 'Shut down' button. This basically means that Microsoft has downloaded Windows updates in the background and will apply them to your PC as soon as you click the 'Shut down' button. Depending on your Windows version and the size of the downloaded files, the time required for your PC to update and shut down can vary from a few seconds to several minutes.
There's a simple way to bypass installing these updates and shut down your PC immediately. This method can be a life­saver if your laptop battery is low or if you're in a hurry to shut down. The updates will then get deferred to the next time you switch on your PC.
First, save any files you're working on and close all the programs on your PC. Now press the Windows key+R to open your Run dialogue box, type "cmd" into it, then press Enter to open your Command Prompt. Type the following into it: "shutdown –s –f –t 00" (without the quotations). Here, '­s' means shutdown, '­f' is the command to force­close any open programs (including ones in the background) and '00' refers to the time­delay after which the command should be executed (instantly). Press Enter and your PC will shut down.
What's in these Windows 10 auto-installed updates, anyway?
Microsoft wants Windows 10 to be more akin to a web service than a traditional operating system. Nobody knows which version of, say, Xero or Netflix they're using, and that's how Microsoft wants Windows 10 to work. Alas, that's achieved by obfuscating the update delivery process to the point where it's very tricky to keep track of what's being downloaded and installed, and what's coming next. The positive spin is that users no longer need to worry about updates, as they happen in the background.
You can't stop Windows downloading important updates, meaning keeping track of downloads is largely an exercise in curiosity, but clicking Details under "Updates are available" will show you what Windows Update has in store. Hover your mouse over any of the impending updates and a textbox will appear telling you what each download entails.
Infuriatingly, the textbox vanishes after five seconds, which makes reading longer passages difficult. To find out more, you can always highlight the update number (normally beginning KB), press Ctrl+C, and paste it into a search engine.
Next: Problems with Windows start-up and configuration