12. Automate Dropbox
You're probably well aware of IFTTT, the popular online automation tool. But did you know that it has dozens of pre-rolled recipes ready to use with Dropbox? These range from the fairly utilitarian, such as automatically copying Gmail attachments matching certain criteria to your cloud storage, to the more esoteric, such as saving trending GIFs from Giphy.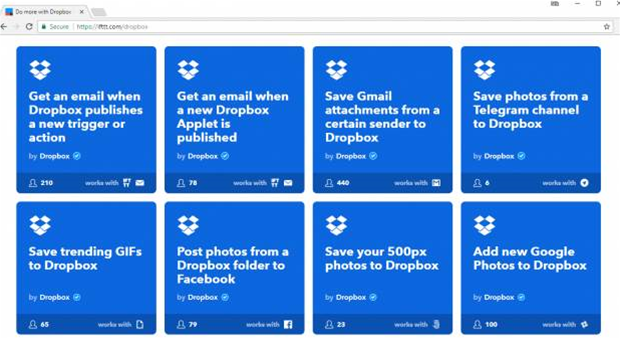 There are dozens of useful IFTTT recipes for Dropbox
Our favourites include automatically posting all of the photos you drop in a particular Dropbox folder to Facebook, and backing up the images you save to 500px. There are also integrations for linking Dropbox to Slack, Gmail, Google Drive, Telegram, Flickr and dozens of other well-known services.
These pre-made workflows usually need just a single click to enable. You also need to give authorisation to access your Dropbox account, and feed in a couple of simple variables such as your email address or Facebook login details. You'll find the full list of Dropbox tools here.
13. Use Dropbox to host a website
Web hosting isn't expensive, but the cheapest deals often come with limited storage and bandwidth. As an alternative – if you're not worried about having a custom domain name or using flashy interactive technologies such PHP or WordPress – it's perfectly possible to host web pages in your Dropbox Public folder.
To do this, simply upload your HTML files into your Public folder, then copy and share the link with whoever needs access. The important part is to remove "?dl=0" from the end of the URL, which makes sure that the page opens up in the browser rather than being downloaded onto the visitor's machine.
If you want a memorable custom address, check out DropPages, which will either give you a free subdomain or allow you to redirect to your own domain for a fee of £5 a month. Although the DropPages service doesn't actually serve web content directly from your Dropbox account, you can still use it in exactly the same way: your uploaded files are automatically synced from your Dropbox Public folder to the DropPages server and served from there.