Want to protect valuable data right across your business? Here are four of the better options.
Reviews in this Group Test
Ask security experts what the one lesson is they wish businesses would learn, and possible the most common answer you'll hear is 'backup, backup, backup'. Making regular backups is important for any business – it's a vital to guard against ransomware attacks, computer or server failure and more.
Managing and coordinating these backups can be a huge headache, but businesses can make the task easier on themselves by investing in software to automate and schedule backup tasks.
If you only need to back up a handful of laptops or desktop computers, there are plenty of options, such as the free backup tools that we've reviewed previously. But if you need company-wide data protection – particularly for servers or equivalent cloud infrastructure – you may need a more sophisticated solution.
Here are four of the better business backup solutions to help take the pain out of data protection.
Acronis Backup 12.5
Acronis really earns its pedigree as one of the top names in data protection with the latest version of its backup software. Acronis Backup 12.5 has the essentials well-covered; deployment is simple and speedy, there's a huge range of backup destinations available (including tape drives) and enhanced virtualisation support for automatically converting backups into virtual machines.
As if that wasn't enough, Acronis has also added anti-ransomware defences, which will automatically put a stop to any rogue malware that starts automatically encrypting your files. Acronis's software has a backup option to suit any organisation, small or large. And priced from $85 per workstation per year or $589 per server per year, it offers excellent value.
See our full Acronis Backup 12.5 review for more details.
Hyperoo
Hyperoo's backup products may be primarily intended for Microsoft Hyper-V virtualised servers, but don't let that fool you into thinking that it's a one-trick pony. In fact, you can use it to back up to just about any location you could wish.
Hyperoo supports using any storage-accessible storage device, including local disks, NAS drives and IP storage area networks, as well as cloud storage providers. Of course, Hyper-V backups are where it really shines – it restored an 8GB virtual disk in under two minutes during our tests.
This versatile solution is available as software for local and network backups, or as a cloud service – and it's very affordable too, with pricing from just US$149 per licence or US$75 per terabyte per month for cloud backup.
See our full Hyperoo review for more details.
IDrive Business
If you need to back up your business on a budget, IDrive Business is well worth considering. Starting at US$99.50 for the first year, IDrive's cloud offering is within reach of any company. That initial price covers a 250GB allocation, and supports unlimited MacOS, Windows and Linux systems.
It's not lacking in features, either; Exchange, SharePoint, SQL and Oracle servers can all be backed up as standard, as can mobile devices. There's even real-time backups, image-based backups, hybrid backups and file syncing.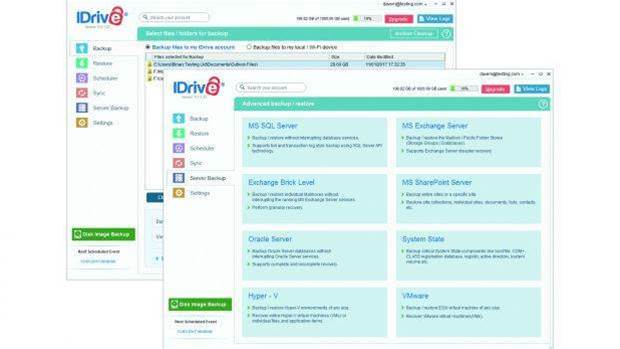 See our full IDrive Business review for more details.
Veritas Backup Exec
Managing the backup operations for an organisation can be a huge headache; thankfully, that isn't the case with Veritas Backup Exec. An intuitive console panel and a series of clever, time-saving features mean that complex backup and recovery strategies are easy to keep track of.
Platform support is a high point, too. The core operations of Windows Server 2016 are all fully supported, as are Amazon S3 and Microsoft Azure, and you can also back up Exchange and SQL Server virtual machines with ease. Well-rounded and highly versatile, this backup solution is a great choice for larger, more technologically diverse enterprises.
Backup Exec is now available as a very affordable subscription too, with pricing starting from $55 per one front-end terabyte (for an annual commitment).
See our full Veritas Backup Exec review for more details.
This feature is based on an article that originally appeared at IT Pro.